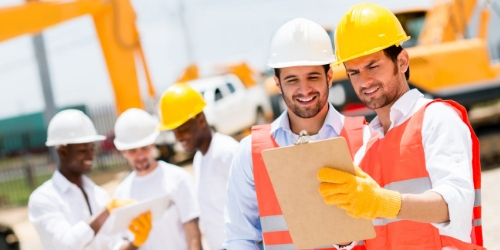 Benefits of Executive Recruiters in the Construction Industry
If you've reached the role of an executive in the construction industry, then chances are you've been through various changes throughout the years. 
The construction industry has maintained many of its guiding principles over the years. But, like other industries, there have also been several changes as a result of new technologies and social practices. 
Whether you are actively in search of a new job, or merely keeping your eyes open for a unique opportunity, then putting your networking and recruitment hat on is good practice. 
In this changing landscape, then it's in your best interest to get in touch with an executive recruiter or recruiting firm and get your name on their radar for future opportunities. 
Let's take a look at a few reasons why you need an executive recruiter and show you how to find an executive recruiter. 
Challenges in Locating Executive Level Jobs
Lack of available opportunities
At the senior and executive levels, there is a limit to the number of available jobs. 
While entry-level candidates typically complain that it can be challenging to find a job due to a lack of experience, there are always plenty of opportunities. 
At the senior level, things can get tight as companies have a specific idea in mind for job openings, and they are looking for someone to come in and have an immediate impact. 
Increased level of decision-makers
The more senior the position being recruiter for, the more scrutiny. When we factor in the changing landscape of the construction industry, we notice that there is an increase in the use of technology. 
Some of the decision-makers may involve some of the sub-departments within a firm a particular executive would be expected to work with. 
Companies will be on the lookout for candidates who can meet specific criteria. In many cases, this criterion isn't well defined due to the number of decision-makers who have a say in what is happening.
Extended hiring process
Hiring for executives takes a lot longer than for other job roles. On average, it can take over 70 days to hire an executive compared to about half that for different functions. 
Due to the extended hiring process, it can become difficult for individual candidates working on their own to find the best opportunities. Also, they might not be aware of how long the interview process could take and not plan accordingly. 
Social networks dominate
Social networks like LinkedIn are dominating the recruiting process in 2020. Over 80% of organizations are currently using the tool to find the best candidates and recruiters are as well. 
Social media has been around for a while. Unfortunately, some executive-level candidates may not be aware of just how important it is, dismissing it as something for younger generations. 
However, it is a great tool for locating opportunities, and candidates without a significant social media presence could find themselves falling behind the pack. 
Benefits of Using an Executive Recruiter

We understand the changes in the construction industry and the challenges that make executive recruitment difficult. Now it's time to focus on why you should work with an executive recruiting firm to help you find your next role. 
Clear guidelines
Executive recruiters are first and foremost working in the best interest of the companies that hire them to find candidates. But, that doesn't necessarily mean they don't have your interests in mind either. 
The benefit of them working on behalf of the hiring company is the clear guidelines that are set. 
Job boards and company websites may list job descriptions that detail the role they're looking for. They have all of the requirements for candidates, but these job descriptions can sometimes be very generalized. 
On the other hand, recruiters benefit from direct contact with hiring managers and companies. They are much more aware of the specifics of each job and can better direct candidates on how the overall process will work. 
Guidance on new changes
Executive recruiting firms are continually speaking with firms and candidates. They understand not only the needs of recruiting firms but also have a good grasp of the candidates on the market. 
This knowledge is invaluable as it helps you to better prepare for a new role. Given the length of the overall hiring process, it also affords you plenty of time to get started on a new skill if necessary. 
Entry-level roles typically require a very hands-on approach for expertise. In executive roles, on the other hand, merely having a solid grasp of new skills can help you to steer the firm in the right direction.
Specialize in filling senior roles
Executive recruiting firms specialize in filling senior roles for companies. This makes it easier to trust that they can be an excellent fit for your search in the construction industry. 
Some companies may not have a clear idea of precisely what they are looking for in a candidate. But you can rest assured that recruiting firms don't have that problem. They have garnered enough information about the industry and market to determine if a candidate will be a good fit. 
Time savings
Having a recruiter on your team can be a huge benefit for you as a candidate. Recruiters are typically employed by firms to help them with tough-to-fill positions. 
These executive recruiters will likely be the first to know of positions, in some cases before they are officially open. Executive roles take a long time to fill, so recruitment tends to begin early. 
If you're already working with an executive recruiting firm then you are likely to be in the perfect spot once a position opens up. With a recruiter on your team, it takes some of the work off of your shoulders in an elusive job hunt. 
Build your network in the construction industry
They say it's better to start looking for a new job before you need one. This is even truer when it comes to executive roles due to the extensive hiring process. 
At the very least, working with an executive recruiter can put you on their radar. This way, when you are looking for a job, they already know what you offer and can find the right fit for you. 
Start Your Executive Recruitment Journey with Peterson Consulting Group
Now that you understand why you need an executive recruiter, you may now be wondering how to find an executive recruiter. Look no further than Peterson Consulting Group. 
We're executive recruiters for the heavy highway and heavy civil construction industry. 
We help firms that do anywhere from $20 million to $5 billion that build our roads, bridges, and tunnels find the right people. 
We've been in the industry for over 25 years and understand construction, where it's been, and where it's headed.
If you're a candidate looking for your next role then don't hesitate to contact us and let's find you your next construction gig.